Development of a Hydrologic Model of Mosquito Lagoon
Development of a detailed hydrologic model to predict and manage hydrologic dynamics and water quality of the Mosquito Lagoon was deemed a high priority by the National Park Service (NPS).  The goal of this project is to apply a well-tested and documented numerical hydrodynamic water quality model to manage and track water circulation and quality. The modeling effort is supported with monitoring data primarily from the St. Johns River Water Management District (SJRWMD) and supplemented with site specific data collected during this study.  The project is organized into separate objectives, each with tasks designed to satisfy specific purposes for model development and water quality assessment. Objective 1 is development of a coupled hydrodynamic water quality model for application to Mosquito Lagoon as a management tool. Objective 2 of this study is to determine the extent of pollutant loading to the lagoon from typical onsite sewage treatment disposal system (OSTDS)  installations in order to better evaluate cause-effect data to guide future management decisions. 
The model selected to meet the project Objective 1 is the EPA supported Environmental Fluid Dynamics Code/Hydrodynamic and Eutrophication Three-Dimensional Model (EFDC/HEM3D). EFDC/HEM3D includes features and capabilities that make it superior and more applicable to shallow estuarine environments than other models. Application of the EFDC model was designed to compare existing hydrological conditions of the Mosquito Lagoon with hypothetical cases in which increased nutrient loads are applied from surface water runoff and from groundwater inflows.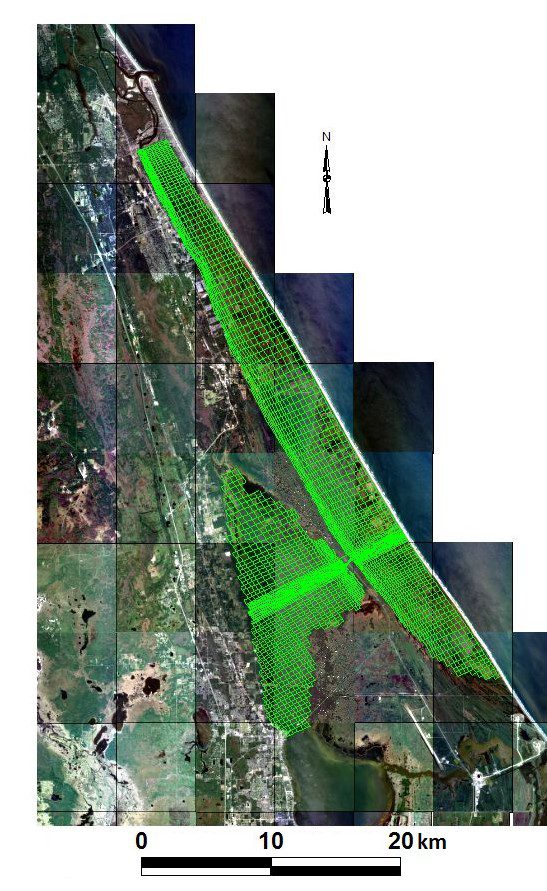 Total extent of the Mosquito Lagoon Model grid, which includes 3,270 active cells and a portion of the northern Indian River Lagoon subbasin.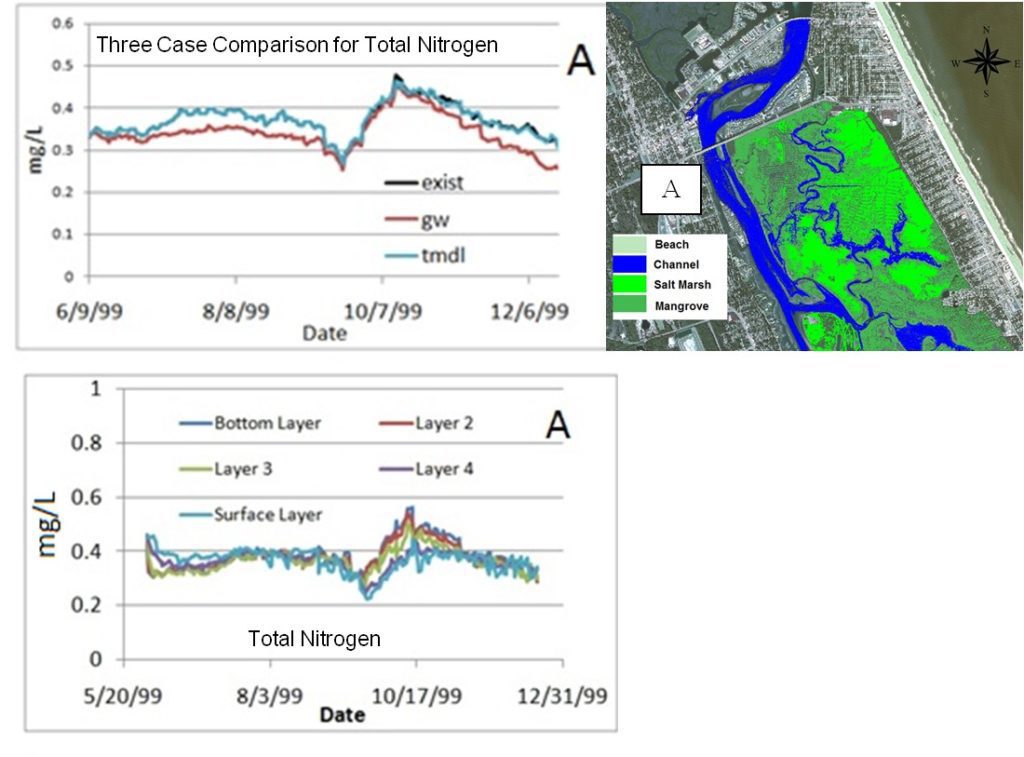 Location A northern segment of Mosquito Lagoon aerial image upper right. Model test results for total nitrogen concentrations at location A in lower left. Results of three model test cases for total nitrogen: existing conditions (exist), addition of ground water (gw), and under total maximum daily load (TMDL) restraints (tmdl).
Model tests were guided by the results of OSTDS monitoring data and previous measurements of nutrients and pollutants in groundwater. Simulations conducted to test the response of Mosquito Lagoon to changes in nutrient loading considered hypothetical increases from surface water and ground water, as well as a reduction in surface water nutrient inputs to simulate a prescribed total maximum daily load.
Results of this study indicate that nutrient loading from watersheds surrounding the Mosquito Lagoon and from groundwater is currently not a significant threat to the conditions of lagoon waters. However, model results indicate that surface water runoff could have a notable impact on water quality in the Mosquito Lagoon if watershed nutrient loads are significantly increased. Impacts from increased nutrient loads in groundwater were less important in model tests. This may be due to the lack of groundwater flux documentation on a regional scale to the Mosquito Lagoon. A calibrated groundwater model would be beneficial in future hydrological assessments of the lagoon.